Why We Fight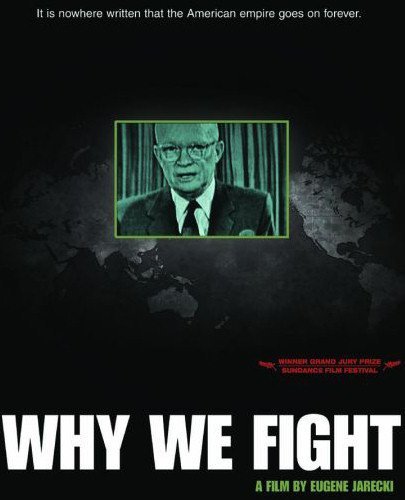 '
Why We Fight
' is an unflinching look at the military industrial complex and the rise of the American Empire. Inspired by Dwight Eisenhower's legendary farewell speech (in which he coined the phrase "military industrial complex"), the film surveys the scorched landscape of a half-century's military adventures, asking how -- and telling why -- a nation of, by, and for the people has become the savings-and-loan of a system whose survival depends on a state of constant war. The film moves beyond the headlines of various American military operations to the deeper questions of why -- why does America fight? What are the forces -- political, economic and ideological -- that drive us to fight against an ever-changing enemy?
During World War II, the U.S. government commissioned a series of propaganda films (some directed by Frank Capra) entitled 'Why We Fight.' Now, filmmaker Eugene Jarecki turns that premise on its head, using the same title to take an incisive, unflinching look at the convention of warfare. Using as his starting point Dwight D. Eisenhower's declaration that a responsible government "must guard against the acquisition of unwarranted influence, whether sought or unsought, by the military-industrial complex,"
Jarecki charges that in the current political climate, the government's ambitions -- stated or otherwise -- in going to war are often starkly different from the best interests of its citizens. Why do we lack the sense of wartime purpose that previous generations proudly upheld? How large a role do political and corporate agendas play in influencing a U.S. call to arms? These questions and more are addressed in a powerful film that transcends polemical scapegoating, forcing us to confront a new brand of imperialism that cannot easily be justified or ignored.
Why We Fight - A Film by Eugene Jareki
Release Date: January 20, 2006